St Paul's Woodford Bridge exists to worship God, lead people to Christ, build a loving Christian community, and serve a world in need.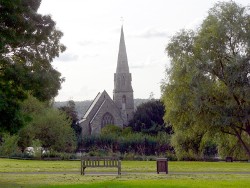 Looking to host a weekend event? See hiring St Paul's church halls.
Latest news
Update: Concert by The Woodford Singers (19 October)
The concert of film and television related music by The Woodford Singers on 19th October was greatly enjoyed by the audience of around 60 people.
£600 (including reclaimed Gift Aid) was raised for the Toilet Fund which was a wonderful result.
Fun numbers such as the Dad's Army tribute were much talked about afterwards.
A big thank-you to all the Singers and to their amazing young guest singer!
Posted 1 November 2019
Memorial Service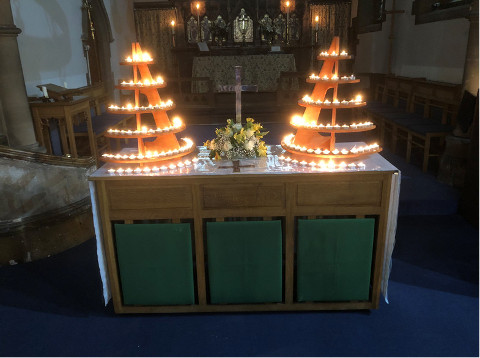 Posted 27 October 2019
Sponsored Walk to Chelsmford Cathedral – completed!
Congratulations to Peter Hammond, who has successfully completed his walk in aid of St Paul's Toilet Fund! Contributions are still being accepted – contact Peter at inforapenny@myphone.coop
Peter writes:
I started at 6:30 a.m., arrived at the Cathedral as the bell struck 5 pm, and was greeted by Canon Ivor Moody – the Vice-Dean.

7:32 hours on my feet, average speed 3.2 mph

24.4 miles

Latest £pm - £1014÷24.4=£41.50 £1220 would = £50pm!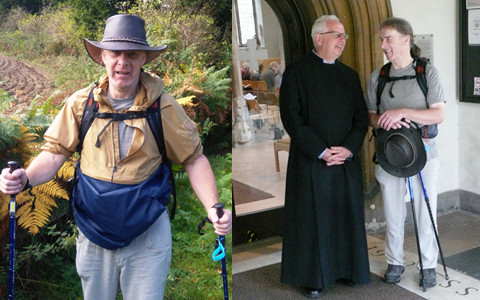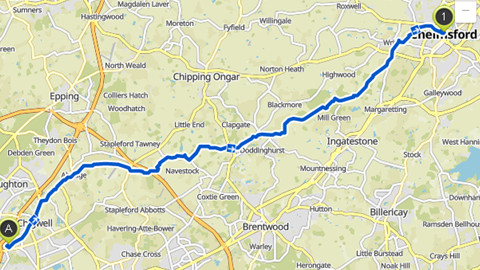 Updated 6 October 2019
St Paul's Toilet Fund
"In for a penny, in for a pound"
We need your help...
At the moment we have no toilets in the church building - the nearest are at the bottom of the churchyard in the church hall. This is very inconvenient for baptisms, weddings, funerals, and other church services and social activities beneficial to the local community.
So we're planning to have two toilet cubicles, one fully accessible for mobility impaired users, installed in church at a cost of around £80,000 - costing this much largely because the church building hasn't got a sewer pipe outlet and the nearest connection for one to be laid is at the church hall.
How you can help us...
make a Bank Transfer donation to Barclays, Woodford Broadway Branch sort code 20-52-74 account no. 10775215
put your donation in a blue Gift Aid envelope available in church and mark it "Toilet" (cheques payable to ST. PAUL'S PCC)
contact St Paul's Treasurer Len Stevens for further information.
Updated 31 January 2019
Services
Sunday
10 a.m. Family Communion
2nd & 4th Wednesday
10.30 a.m. Holy Communion
What's on this month
See our Calendar for further details.
Who we are
We are a Christian Parish Church in Essex in the Diocese of Chelmsford, and part of the Church of England. We are here to spread the 'Good News' about God and his Son Jesus Christ.
The Bible says "For God loved the world so much that he gave his only son, so that everyone who believes in him may not die but may have eternal life" (John 3:16). That means those who 'follow' Jesus Christ, who love his company, respect his teaching, trust his promises and are prepared to let this affect their lives.
Groups and activities
We are a friendly church and you will find a warm welcome at our services and church groups.
For children, we have a Children's Sunday Church Club every Sunday at 10:00 in the hall, we run Children's Holiday Clubs and we have a Christian Playgroup which runs each morning in our Church Hall.
For Senior Citizens, we run a Seniors' Coffee morning on the first Thursday in each month.
We have an active Mothers' Union and our Textile Group has created inspiring and colourful banners for the church and meets fortnightly.
"Just for Girls" meet fortnightly on a Tuesday morning from 10—12 noon for Worship, Meditation, Prayer and Fellowship. The group is open to women who are members of St Paul's church. Please contact Pauline Bolding for further details.
Disabled Access

St Paul's welcomes anyone who is disabled - our Church has disabled access facilities through the South Door off the Main road, and a hearing loop for anyone using a hearing aid.
Spirelight Dedication Book
Light up St Paul's Spire!
Everyone is invited to participate in our Spirelight Dedication, to commemorate an Anniversary, Birthday or any other memorable date.
Just fill in a St Paul's Spirelight Dedication form, and the name will be mentioned on that date in the Dedication Book and in our monthly magazine
Forms in Church or from Len Stevens.