St Paul's Woodford Bridge exists to worship God, lead people to Christ, build a loving Christian community, and serve a world in need.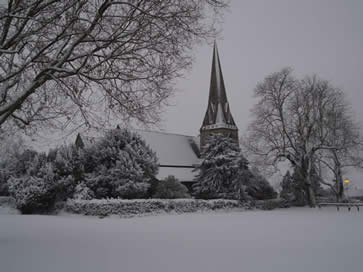 Looking to host a weekend event? See hiring St Paul's church halls.
Latest news
4 January 2019
On December 14th we spent two hours carol singing at Woodford Tube Station. After that we visited The Prince Regent, The Three Jolly Wheelers and The Crown and Crooked Billet. We raised £1022.80 – the first time we have raised over £1000 for St. Francis' Hospice and 4% up on last year.
4 January 2019
In January we are launching our Toilet Fund to finance the installation of toilets in the Church – it will cost at least £80,000. Two of St. Paul's friends who now live in Greensboro North Carolina challenged us to raise £1000 by the end of December which they would double if we did. We've managed to do that so the Fund is off to a great start before 'The Launch'!
Services
Sunday
10 a.m. Family Communion
2nd & 4th Wednesday
10.30 a.m. Holy Communion
What's on this month
See our Calendar for further details.
Who we are
We are a Christian Parish Church in Essex in the Diocese of Chelmsford, and part of the Church of England. We are here to spread the 'Good News' about God and his Son Jesus Christ.
The Bible says "For God loved the world so much that he gave his only son, so that everyone who believes in him may not die but may have eternal life" (John 3:16). That means those who 'follow' Jesus Christ, who love his company, respect his teaching, trust his promises and are prepared to let this affect their lives.
Life events
Contact the Vicar to arrange a baptism, wedding or funeral.
Groups and activities
We are a friendly church and you will find a warm welcome at our services and church groups.
For children, we have a Children's Sunday Church Club every Sunday at 10:00 in the hall, we run Children's Holiday Clubs and we have a Christian Playgroup which runs each morning in our Church Hall.
For Senior Citizens, we run a Seniors' Coffee morning on the first Thursday in each month.
We have an active Mothers' Union and our Textile Group has created inspiring and colourful banners for the church and meets fortnightly.
"Just for Girls" meet fortnightly on a Tuesday morning from 10—12 noon for Worship, Meditation, Prayer and Fellowship. The group is open to women who are members of St Paul's church. Please contact Pauline Bolding for further details.

St Paul's welcomes anyone who is disabled - our Church has disabled access facilities through the South Door off the Main road, and a hearing loop for anyone using a hearing aid.
Spirelight Dedication Book
Light up St Paul's Spire!
Everyone is invited to participate in our Spirelight Dedication, to commemorate an Anniversary, Birthday or any other memorable date.
Just fill in a St Paul's Spirelight Dedication form, and the name will be mentioned on that date in the Dedication Book and in our monthly magazine
Forms in Church or from Len Stevens.